We always try to keep the creek clean that runs through the property, as it always helps the flow and quality of the water.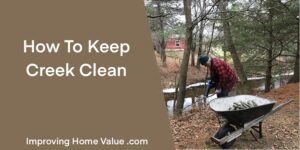 Any papers or cups that get tossed out around the bridge over the creek are always picked up and go to garbage, as some people are not very caring about the environment they live in. With good quality water running wildlife will often come for a drink such as deer and other critters.
Keep Creek Clean
Below we will mention one of the tools used to help keep things clean.
Easy Steps To Keep Creek Clean
Step 1 – Cleaning up along the creek as the last winds blew a small tree into it. For something small like this I just use a 20V lithium-ion cordless reciprocating saw.
Step 2 – After cutting it off just just bring it up on the creek bank where its easy to cut up into wood to fit the stove.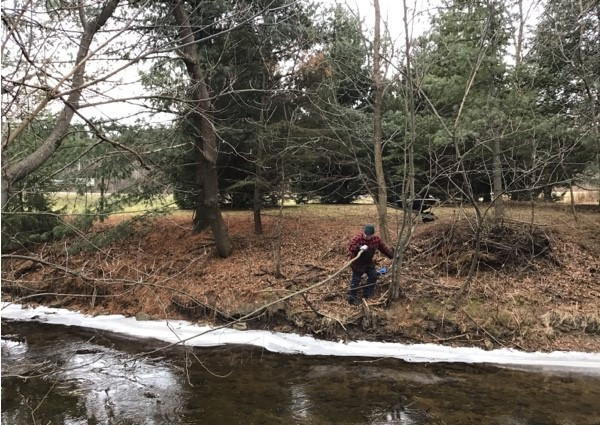 Step 3 – These reciprocating saws are so light to work with you can use them with one hand to cut up the wood.
Step 4 – Loading up the wheelbarrow, will help keep the old log cabin warm in the winter.
Step 5 -This reciprocating saw is a Mastercraft, not very expensive, and a real handy tool to work with, and for small jobs like this it saves filling up the chainsaw.
FAQ For How To Keep The Creek Clean
Why Is Important To Keep The Creek Clean?
We try to keep any branches or large limbs out of the creek, because when the ice melts in the spring there are no ice dams created, and thus less chance of flooding. Also if any trees die along the creek bank we try to get them out of the way and always plant a new one, which will help prevent any erosion of the creek bank.
How Thick The Branch Needs To Be To Keep It For Wood?
We usually keep smaller branches about an inch thick for firewood, as they excellent for starting a fire in the wood stove, and anything smaller will get composted in time.
Is The Reciprocating Saw Safe To Use For A Beginner?
A reciprocating saw is like any power tool where you need to be careful with it and use it safely.
How To Clean The Reciprocating Saw After Using it?
Usually a recipcrocating saw does not take much cleaning as they are fairly well sealed, so once and a while we use the air compressor to blow any dirt off it.
Keep Creek Clean – Final Thoughts
So if you have some small branches or trees that need cutting you might want to try a reciprocating saw, and there are better brands such as Makita, Dewalt etc, I use the Mastercraft because I have the same brand of drills, and the 20V Lithium batteries are interchangeable, which is very handy, plus the saw being so light is nice to work with in comparison to a chainsaw.
You Can Read More Here: