Orbital Sanders Reviews is when have some sanding to do around your home then an orbital sander can be a very good buy. They work well on small jobs or even on the finishing of floors after the drum sanding is done.
The Orbital Sanders Reviews will provide ideas to get a smoother finish then if you were using a belt or flat sander. From my experience the flat sanders will leave some swirl marks on the wood, which you often have to sand out by hand.
Belt sanders are ok but do not always leave the wood as smooth as it should be.
One thing about the orbital sanders is that they are easy to change the sanding paper, with the hook and loop system just pull the used one off and paste the new one on.
Most orbital sanders will produce quite a bit of dust, so when applying your sandpaper to the disc be sure to match up with the dust holes on the bottom of the pad.
Best Orbital Sanders Reviews
Makita Orbital Sander
Probably one of the best orbital sanders is the Makita B05041K, which is a five inch model and weighs about 3.1 pounds.
With its rubberised grip the amount of vibration you feel when sanding is much less in comparison to other orbital sanders.
Makita designed a handle for the front of this sander which gives you more control, plus the handle can be adjusted if your sanding in tight corners.
It also has a variable speed control, which is a great idea as you can control the speed from four thousand to twelve thousand orbits per minute.
With the 3 amp motor there is enough power for most of your sanding jobs around the home.
So if your looking for one of the best in orbital sanders then this is it.
As I have owned different Makita tools from drills to saws, etc. I can say that they are made to last.
Makita Cordless Orbital Sander
Makita also makes a cordless orbital sander, the LX0B01Z, which uses an eighteen volt lithium ion battery for its power source.
It will last about forty minutes on low speed and twenty minutes on high, before needing to be recharged, having another battery is the best way to go.
Also has a one touch speed control for three different speeds,1000,4500,11,000, and also a dust sealed switch for protection.
The sanding pad is a five inch hook and loop design, and the kit for this sander supplies two batteries and the charger plus the dust bag.
Video from GV ToolShed on YouTube.com
Bosch Orbital Sander
The Bosch 3725DEVS random orbital sander is also a very high quality tool. With a 3.3 amp motor that give it a little extra power.
It also comes equipped with a speed control for sanding from four thousand to twelve thousand orbits per minute.
This sander is one of the heavier at 5.1 pounds as most are in the three to four pound range, but with an extra handle on the front makes it easy to control.
To reduce swirl marks on the wood being sanded there is a dampening ring built into it. This basically controls the pressure and speed that the pad spins at when making contact with the wood.
Dewalt Orbital Sander
The Dewalt DWE6421K is a five inch and 3.4 pound orbital sander
This model will also sand up to twelve thousand orbits per minute but does not have the variable speed control
Like the other sanders it has a dust collector attached to it.
It is also designed to keep dust out of all critical areas, so should be able to last a long time.
Ryobi P411 Orbital Sander
The Ryobi P411 one is an eighteen volt cordless battery operated random orbital sander.
This one weighs in at three pounds and has a five inch sanding pad that gives out ten thousand orbits per minute, and also equipped with the dust bag.
The one con about this sander is you have to buy the battery and charger separate. If you happen to own Ryobi cordless products then the batteries from them are interchangeable with this sander.
If used for light sanding work then this is an excellent tool.
Porter Cable Orbital Sander
The Porter Cable 382 is another orbital sander of excellent quality.
It is designed so that dust does not get to the 1.9 amp motor, or into the sealed power switch, so it should last a long time.
With an automatic speed control for starting to sand and slowing down, so you don't get swirl marks on the wood.
This model has less vibration then some others, thus making it easier to use over a longer period of time.
It will spin up to twelve thousand orbits per minute, so for light to medium sanding it is an excellent choice.
Black and Decker Orbital Sander
The Black and Decker model BDER0100  is more for light sanding jobs.
Weighing only 3.16 pounds it is one of the lightest sanders, so this makes it very easy to control.
It will spin up to twelve thousand orbits per minute and with the random orbital motion it does leave a good finish on the wood.
This is not too expensive a sander and is good enough for any small sanding around your home.
Mastercraft Orbital Sander
Mastercraft makes a random orbital sander model number 054-8392-0.
This is another sander designed for light work with a five inch sanding pad, and the hook and loop system for attaching the sand paper.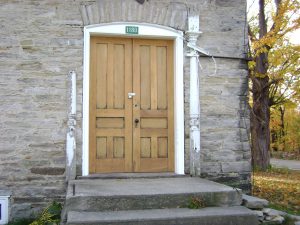 It weighs two pounds ten ounces so is very light to handle, and for best results just apply light pressure while sanding.
It does not have a variable speed control so best to start the sander after you have placed it on the wood.
For light duty work and a low price tag this sander works quite well, as I have used one of these to do two church doors, and it did an excellent job.
Milwaukee Orbital Sander
The Milwaukee five inch  random orbital sander model is 6021-21.
It has a 3.0 amp permanent magnet motor producing excellent speed and power.
This model also comes with the variable speed dial controlling the seven to twelve thousand orbits per minute.
With an electronic soft start there is less wear on its parts, and very little swirl marks so it will produce a smooth finish.
The design adds control and comfort to the sander, and with a weight of 3.3 pounds makes it very easy to use.
With a five year warranty this model should last you a while.
Speed of Sanders
The speed that the sanding pad moves is rated as orbits per minute OPM because the pad is oscillating in a random motion as well as spinning.
Also there are some sanders that spin only on a fixed axis and these are measured in revolutions per minute RPM.
When the sander is on the wood to be sanded it will slow down from what it is rated at.
Power Rating
The power rating of these random orbital sanders is usually in the range of 2.5 to 3.3 amps.
Some of these with a stronger motor may actually orbit and spin at a slower rate then others, so that's something to check out when buying.
Warranty
The warranty on most orbital sanders is from 1 to 3 years and some up to five years, so there usually made to last for awhile.
Buying
Most hardware stores will sell the orbital sanders, Canadian Tire has different models to choose from so you look and see how they feel.
They also can be bought online, Amazon will have many different brands of them to choose from, and also with customer reviews to help in your choice to purchase.
And often the online stores will have a more competitive pricing then your local hardware stores.
Usage Of The Orbital Sanders
For most people the choice of an orbital sander will depend on the job you will be using it on most of the time.
If your going to use one at different jobs you do such as sanding a floor after drum sanding then a better quality sander would be the best choice.
And if only doing light sanding around your home a less expensive model will be ok.
Also try to chose a sander that's comfortable to hold, because if your using it for an extended length of time your hands and wrists can get a little sore.
Orbital Sanders Reviews Conclusion
If you have the urge to buy a random orbital sander then Amazon is an excellent place to look for one.
They sell the top end models and the not so expensive models.
Usually you get what you pay for, so often a better rated model will be the best buy.
Having a variable speed model is also a bonus as the sanding speed can determine just how smooth your sanding job will end up looking.
Read also Sanding Wood Floors
One of the top rated is the Makita B05041K model, designed to do your jobs and last, as well as being one of the best in overall performance.
Any questions or comments then drop me a note,
Wayne.