Tools
When it comes to buying tools for home repairs your going to need quite a few. I will give an opinion on some that I have found very useful, and a few of the better quality ones that I have come across over the years.
Some Of The Basic Tools
Start out with the usual hammers, best get a couple of them as they seem to have a tendency to walk away. Then buy yourself some screwdrivers, and you will need just about every kind and size that's made. You will also need a good tape measure, most of them don't last even if there expensive or cheap, but that could be just me and the rough use I put them through.
Cordless Drills
A cordless drill is a must and an excellent do it yourself tool. There is many makes of these, some better then others, so if you do your homework before buying one its a good idea. Personally I recommend twenty volt drills as they seem to be strong enough for most things, and the battery stays charged longer then the smaller ones. Right now I am using twenty volt Mastercraft which is ok. Also think Makita, Dewalt, Bosch, and Milwaukee are some of the better ones.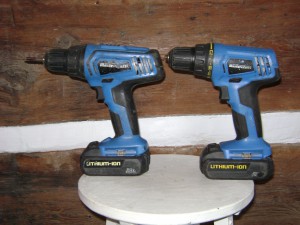 Electric Sanders
An electrical orbital sander is also a must for tools along with a belt sander. I find the orbital sanders are good for finishing off to give a smooth finish, while the belt sander will level off rough wood much faster and even remove old paint. There are many makes of these on the market so is your choice of what to buy. A little hint is that I have gone through four lesser name brand belt sanders to one Makita orbital sander, so something to think about.
Circular Saws
Another must have tool for the do it yourself is a circular saw. I have used quite a few different ones through out my life, and at the present time am using a Makita seven and one quarter inch. This saw I have had in use for over twenty years, and last year was the first I had to change the brushes in it , has been an amazing saw.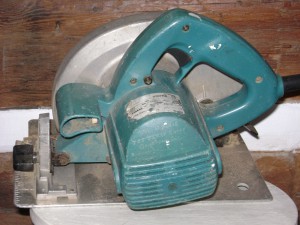 Smaller Tools
A few smaller tools you will probably need are a stapler, putty knife, square and level. The speed square is handy for cutting lumber as you can lay it across the piece and line your saw up against it for a square cut. Smaller and in a triangle shape I find it easier to work with then the larger squares, but is good to have both. As levels go is best to have a four foot , and a two foot one, the more expensive ones will last longer. Another good item is a stud finder used for locating two by fours or two by sixes behind the gyprock on your walls if you wont to hang pictures or what ever.
Ladders
Other things you should have around the home is a good stepladder, great for painting those eight foot walls. I also use a multifunctional ladder. These can be used for getting at hard to reach places like over a set of stairs, and can be even adjusted to sit on the different stair levels, plus it extends out to thirteen feet so is a very versatile ladder. Along with these you might wont a step stool. There are different ones, some three step, four step and two step also, and the ones with wider space for the feet are more comfortable if standing on them for a length of time. There also handy  for paint jobs where you are unable to squeeze a ladder in, and being lighter then a ladder easier to move around.
Pliers And Other Things
Some other tools that are helpful for around the place include tin snips and needle nose pliers, which I use sometimes on taps in bathrooms and kitchens. Also a can of spray lube helps when trying to remove stubborn tap fixtures, and some faucets are held on with hex screws that require a set of allen keys. Also a utility knife is a must have when removing silicone from around tubs or other places, and also for cutting gyprock.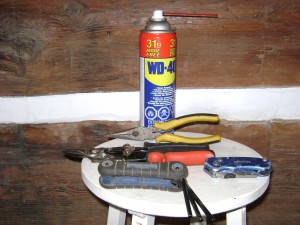 Dust Mask, Chisels, Chalk Line
Another tool you might need is a dust mask, if you happen to do some sanding, wood or gyprock. Wood chisels are also a great buy  and can be used for adjusting door latches or where the hinge fits. They have multiple uses as I often use them to clean off old gaskets on motorcycle parts. Just keep a good file around for keeping them sharp. You probably wont a chalk line, a great tool for marking gyprock before cutting.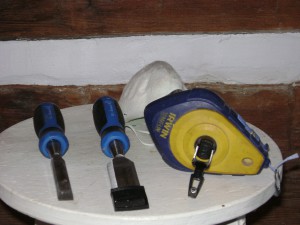 Shovels
Next if your doing any gardening around the place, a shovel is a must. The round mouth and a square nose are a good buy. I find the square nose shovel excellent for removing old shingles when a roof job is needed.
Multi-Crafter
Another tool that works well is a Multi-Crafter. It will cut metal and wood, and also do fine sanding. I find this tool very handy as it gets into places other tools will not reach. If laying a floating floor or installing hardwood floors this tool will cut away under door jambs instead of having to use a handsaw. Also can be used for cutting out on gyprock where electrical plugs will go, does a really good job.
Home Project Tools
There is probably no end to the tools you can buy and need for keeping your home in shape, and doing different jobs around the place. as you keep working on projects  around the house you might wont  a table saw, miter cut off saw, reciprocating saw, jigsaw saw, band saw and others. The  list seems to just keep growing, anyway I wish everyone the best of luck on there tools for home repairs, and the many projects  to keep the place looking good.
Comments
If you have any comments or new ideas just leave a message.
Wayne