There are times when keeping your house in shape you might be called upon for making and repairing furniture. This could be anything from fixing a broken chair to making a table, or even trying to make a set of cupboards or anything else around the house made with wood products.
Glues
If you happen to have a chair where the rungs have pulled out of place, then this can be  an easy fix with some carpenters glue. Most of these wood glues take two to three hours to set up, but I usually leave them clamped up over night. Also before gluing be sure to clean out where they mate back together so you have fresh wood for the glue.
Table
Another project to try if anyone is interested in making a table for the kitchen or living room. It is not to difficult to do, first thing is to buy some pine two by sixes. You will need eleven or twelve of these eight feet long. I made my first table top five feet six inches long by thirty two and a half inches wide, which is six two by sixes glued together. A two by six bought at the hardware store is actually an inch and a half by five and a half inches, and this will make a very solid table.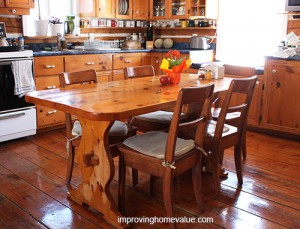 Dowels and Pins
When gluing together I used wood dowels three inches long by half inch in diameter, and about six to each piece of two by six. You will need a level surface to line them up on, and before drilling holes for the wood dowels check that the grain of wood  on ends of two by sixes are opposite of each other, as there is less chance of warping in the future this way. After drilling the first board I use small metal pins that are designed for the size of the wood dowel holes. Insert these in the predrilled holes then press next two by six against first one and you will have your marks to drill next wood dowel holes perfectly aligned.
Clamps
After all holes are drilled then insert the wood dowels and apply wood glue, and press all six pieces together. I personally use pipe clamps but there are many different kinds on the market today for this type of job. You will also need C clamps to hold the two by sixes level on your gluing platform as you apply pressure to the pipe clamps. I usually leave this clamped together for a couple days before removing them. It will be ready in less time then this as the glue bottles recommend two to three hours but I always leave a longer time so less chance of problems.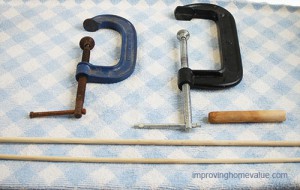 Table Top
After removing the table top from the clamps then it is time to start sanding to get a smooth finish to the wood. I usually start sanding with an eighty paper then work up to a finer sand paper, something like a two hundred to finish. In also rounded the corners, just because I thought it looked better. The legs are four two by sixes glued together and can be cut later to any design you like. I made them twenty seven inches long and put two feet rest with felt on them to protect the floor. For this I made pieces seven inches long by two and a quarter wide by one inch thick. Then after everything is sanded it can be finished with a varathane or whatever your choice is , as there are also many different products on the market for this.
The Table Legs
Attach the foot rests to bottom of legs with a couple screws, then the legs are screwed to bottom of table top by attaching a one and a half by two by fourteen inch long piece to top of legs with four bolts. Then screw through this into table top with five or six screws. Legs are then joined together by a length of two by six cut down to three and a half inches wide, narrowed at the ends and held in place with two wood wedges. My table has stood up to wear for twenty five years or more with zero maintenance.
Bookshelf
Other furniture can be made also,  from bookcases to magazine holders or end tables for your couches. Also make yourself a bar counter using the same methods as the table top, just cut to size. For book shelves you can use one by ten pine, some wood screws, sand the pieces before putting together. Then finish up with varathane. I have used a latex varathane on some projects and it seems to stand the test of time quite well, plus is easy to apply, dries fast between coats, and brushes clean with water.
Magazine Holder
To put together a magazine holder also use one by ten pine and a one inch wood dowel fifteen and a quarter inches long for the handle. Make the bottom, sides, and ends, and put together with wood screws, varathane and its ready to use. There are many different designs for this, I just copied one that was an antique my mom used to have.
Wood Projects
Most of these projects can be bought at stores, but they will not be of the same quality if you make them yourself. Plus having something made by your own hands is always a good reward in itself. I usually use pine because its very easy to work with and takes less time to sand and finish then many of the hard woods like oak or maple. In my case the floors in the house are pine so I try to keep things matched up.
If you have any other ideas just leave a comment, its always appreciated.
Wayne