New Home
Here is a few Interior Painting ideas for a newly renovated house. No furniture to cover up or move around, and all new drywall. Even plywood floors, so no need to cover them as this can really make painting jobs easier.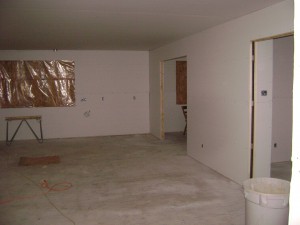 Vacuuming
First thing to do is vacuum the ceilings and walls to remove any drywall jointing dust. I use this shop vac for this with a soft brush attachment on the end of a stiff and flexible hose. This way there is little chance of marking the gyprock joints. For a vacuum bag I use one specifically designed for the finer dust. This is a great invention because in the past have gone through quite a few shop vacs.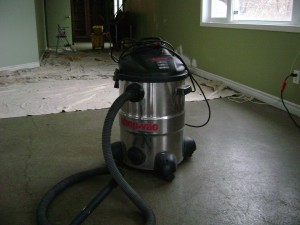 Primer Paint
Once everything is vacuumed and cleaned it is then time for the primer paint. As there is nothing in the rooms doing the edging is a breeze. I use about a two inch angled sash brush for this. Often it is difficult to find a decent paint brush as many are made to thin with not enough bristles and after a couple paintings there ready for the garbage. So a point here is to always check your brush quality before buying. I have also tried edgers but never found any that work as advertised. I anyone knows of a good one just leave a comment.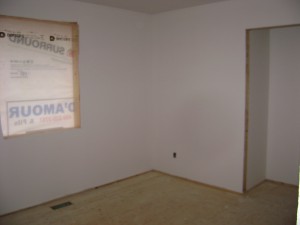 After Primer has Dried
After the primer has dried which usually take four hours or a little longer if preferred. With the new drywall is best to check to see if there are any places that do not feel smooth to the touch. If so is best to take a pole sander, same as used to sand the joints and using fine sandpaper go over all the primer, then vacuum and clean again. This will give your walls and ceilings a very smooth finish.
Top Coats
Is best to always put two top coats of the finishing paint, and to also check after the first coat for any rough spots that might have been missed. If so they can be lightly sanded again before the last coat is applied.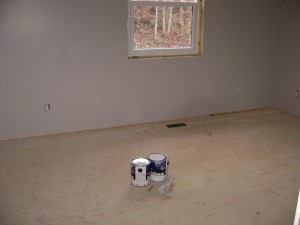 Dark Colours
Another thing is if your painting dark colours in a room such as dark brown or a dark blue, then it would be best to apply two coats of primer. The reason for this is no matter how good the person doing the joints on the new drywall is the dark colours will show any imperfections that appear on your walls or ceilings.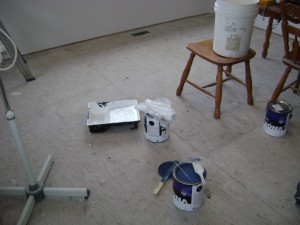 Rollers and Brushes
If your painting a new home that has as an example eight or nine rooms, you might require that many rollers because of all the different colours. One of the best ways to keep your rollers from drying out is to buy the large plastic freezer bags and roll them up in them after every use. They can be bought at the dollar or grocery store, so is a cheap way of saving time by not having to wash them each day. You can also do this with the paint brushes as it keeps them from drying out also.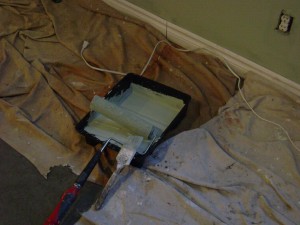 Adjustable Handles
Something that is really handy when doing the rolling is an adjustable pole that screws into the roller handle. Is best to get one that adjust from thirty inches upwards. The shorter size works well when it comes to hallways and closets.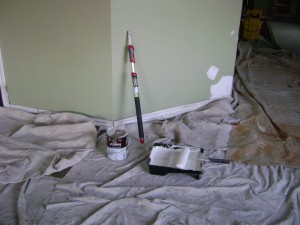 Quality Paint
Its recommended to always buy the best quality paint on the market, and put two top coats over the primer. Also as a high sheen paint will show any flaws you have in walls and ceilings. If you wish to hide any trouble spots on your drywall then go with an eggshell gloss or flat paint.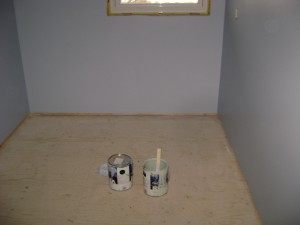 Coverage
A gallon of paint will usually cover from three fifty to four hundred square feet, so just measure your rooms to get square footage. The second top coat will take a little less. Also when doing the last coat you may wont to roll as close to the edges as possible to give a more uniform finish where the edging was done.
Edging and Interior Painting Ideas
While some people tape around the woodwork and baseboards to keep them from getting painted, personally I find this a waste of time. If you have a good sash brush two or two and a half inches wide and a steady hand, you are good to go.
Doing Woodwork
When painting woodwork in your house use a polyester and nylon brush for latex paints, and a bristle brush for oil based paints.  Also longer bristles on your brush will leave less paint marks.
So I hope these interior painting ideas will help you out on your future paint jobs, and best of luck with them.
Any comments are always appreciated. Wayne.