If you are asking yourself what is ball peen hammer then I would have to say it is designed with a ball shape on one end, and the hammer shape on the other end. They look much like your ordinary hammer, except that the ball shape replaces the claw used for nail pulling.
What is a Ball Peen Hammer Used For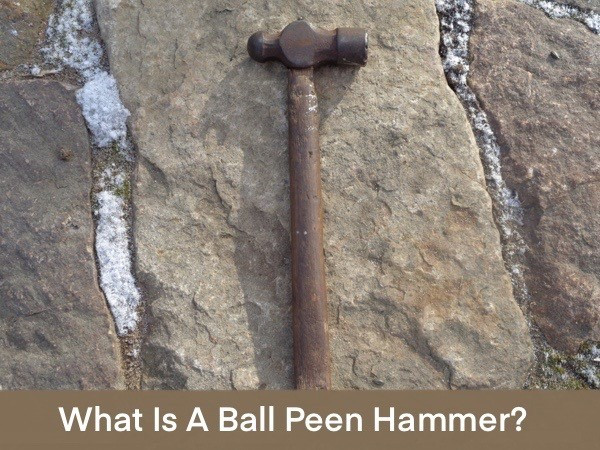 The hammer can be used for shaping metal, and was often referred to as a machinist hammer. It can also be used for flattening rivets, or the hammer end for driving chisels, or even nails.
You can also use the round end for removing ant small dents in metal, and it is a very versatile hammer that can be used by car mechanics, or anyone working with scrap metal, and even a locksmith would find them very useful.
The Metal Used For These Hammers
The metal on these hammers are harder then a claw hammer and less likely to chip when you are delivering some hard blows. They are made from high carbon steel, or a steel alloy that is usually heat treated for maximum toughness.
The Handles
Wood was and probably still is one of the most used materials for the handle, with hickory or ash being used as it can absorb much of the shock and vibration from your hammer blows.
There are also fiberglass handles with a rubber grip on the end of them that works well to prevent shock or slipping out of your hand.
There are also ball peen hammers that use a steel handle that's part of the head and have a shock reducing grip on them, and these work very well as well.
Weight of These Hammers
Ball peen hammers usually range in weight from 2 ounces up to 48 ounces, with 16 to 24 ounces being the most common used, while the heavier weights for any large projects, like pounding a rusted brake drum loose on a vehicle.
Also, when you're buying one find a hammer that's comfortable to your grip, and with the weight matching up to the project you intend to use it for.
Some Brands of Ball Peen Hammers
Tekton makes an excellent ball peen hammer with weights up to 50 ounces. There 16 ounce hammer has a high strength fiberglass handle with a non-slip rubber grip, and with a forged polished steel head.
They also sell a ball peen dead blow hammers, that have steel shot inside the head to reduce rebound when striking materials, and also come in different size weights.
Estwing Ball Peen Hammers
These hammers have steel handles that are forged with the head as one piece, and have a polished finish to them.
They have a shock reducing grip that will give you comfort when using and are a long-lasting hammer.
These hammers come in sizes from 8,12,16,24, and 32 ounce head weights to give you a good choice for your projects.
Edward Ball Peen Hammers
The Edward 16 ounce ball peen hammer comes with a lifetime warranty, and is heavy-duty forged with a fine grain steel head.
The handle is fiberglass with a rubber grip handle to lessen the shock when hammering. This is an excellent ball peen hammer, and can be used on many projects that you might have.
Vaughan Ball Peen Hammers
These hammers are made in the USA. They are made from drop forged high carbon steel and then polished, and also give a perfect balance to the hammer.
Sizes range from 4 up to 48 ounces, and the handles are solid steel as well as fiberglass, and the traditional wood handles that are made from hickory.
The solid steel handles have shock-blok to absorb any shock, and is also rust resistant, while the fiberglass handles have a hollow core for a very effective shock absorption, and is also rust resistant.
You will find Vaughan supplies a wide variety of ball peen hammers to chose from.
Real Steel Ball Peen Hammers
These hammers are stronger and also lighter while being forged from one piece of steel then polished.
They come with a comfortable cushion rubber grip for reducing any shock when hitting. These hammers will stand up to what ever you demand from them, and are great for working with sheet metal, striking punches, chisels, or rivets.
They come in different size ounces, and also different handles such as steel, jacketed graphite, and wood with hickory being used for that.
Jet Ball Peen Hammers
I will mention these ball peen hammers because they are made super heavy-duty with indestructible handles. The handles are spring steel rods in vulcanized rubber, and will absorb any shock or vibration.
They will not break, bend, or split, and have a special locking plate that makes the head separation impossible, plus they have an excellent grip and feel when using them.
They also have fiberglass and steel handle ball peen hammers with different ounce weights going up to 40 ounces.
Pittsburgh Ball Peen Hammers
This brand produces the Pittsburgh 8 ounce stubby ball peen hammer. This hammer is only 61/2 inches long, and would work very well in any tight spots.
The handle is fiberglass with a rubber cushion grip for comfort and absorbing the shock and vibration when hitting something.
Pittsburgh also have the larger ball peen hammers with fiberglass and wood handles from 8 up to 32 ounces, and come with a lifetime warranty.
Quality Of A Ball Peen Hammer
When your out shopping for one or more of these hammers you will want one that's comfortable to handle, and the right weight for the projects your doing, so you might want to buy a few that have different weights as these hammers are not overly expensive.
You will also want to be sure the head is made from hardened steel, titanium, drop forged steel, or high carbon steel, and will stand up to some punishment.
Also, you want a handle that's not likely to break, and that could be fiberglass, steel, or wood, with good protection on the handle to stop any shocks or vibration.
In Conclusion
I hope the information above will give you some good ideas when your out shopping for a ball peen hammer.
I mentioned some of the better quality ones, with some even being guaranteed for life. Most of these hammers can be found at your local hardware store or on Amazon.
There are so many more good quality brands out there that make excellent ball peen hammers, such as
Stanley
Craftsman
Titan
Capri Tools
ABN
OTC
Proto
and many more, so best to pick out the one that suits your needs before making that buying choice.
Related:
When doing some stone work, you might want to use this hammer.
As always, wishing you all the best on your projects.