If your curious as to what is a Geologist hammer, then I would have to describe them as a hammer that is about 7 inches long on the head part. With a square end for hitting and the opposite end is a pointed sharp piece of steel.
Construction of a Geologist Hammer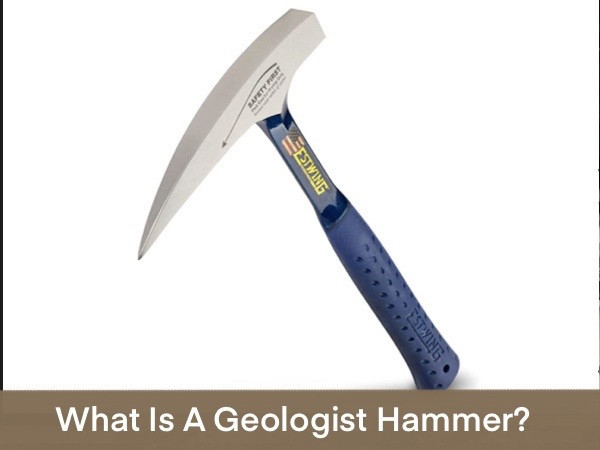 You will find the best Geologist hammers are forged from one piece of tempered steel with the handle, which will give the hammer strength for braking hard rocks apart, and the pointed end is used for digging and scraping, or to crack open rocks to find some fossils inside.
The handles on these hammers can be rubber, or even leather, or wood which will absorb any of the shock when hammering.
Rock Hammers
I should mention that along with the Geologist hammer, which is often referred to as a rock pick hammer, while another hammer with the basic same design is a brick hammer which is also used for stone work.
The brick hammers only difference is that the pointed end has a chiseled end to help in spreading rocks apart or braking bricks.
There is also a small sledge hammer, which I have found to be a good tool for driving chisels, or splitting rocks.
With these three hammers you would be well equipped for any type of rock work, but in this article I will continue to mention about some of the best Geologist hammers you can find.
Weights of Geologist Hammers
The weights for these hammers can be from 14 ounces up to 35 ounces, and that also can depend on the design or size of the hammer.
There is also a 10 or 8 ounce Geologist hammer for children if you wanted to introduce them to this interesting field of work.
Some of the Better Geologist Hammers
When picking out a rock pick hammer chose one of good quality, as sometimes the head on cheaper hammers can have pieces from the head splinter off during heavy use.
The Estwing Geologist Hammer
Estwing produces many good quality hammers, and the E30 rock pick hammer is made to last.
The head of this hammer is forged as one piece, and then polished with the handle, and the head itself is about 7 inches long and weighing 22 ounces, plus the length of the hammer is about 13 inches.
They also have a 14 ounce hammer, if you would prefer something a little lighter.
The handles can be leather, or also have the shock reduction grip, and both will absorb any shock when hitting on stones.
Having owned one of Estwings brick hammers for 25 years or more, I can verify that they can take a beating, and will probably last you a lifetime, with the only maintenance being a little sharpening.
The Efficere Rock Pick Hammer
This rock pick hammer is made from forged and hardened alloy steel as a one piece handle and head, and then polished, with a rust preventive clear coat on top.
The head weight on this hammer is 22 ounces, and with a length of 11 inches making it very well-balanced.
There is a rubber handle designed to prevent any shock along with a non-slip grip for more comfort while breaking stones.
Any Geologist, contractor, or stone mason would find this an excellent hammer to work with.
ASR Rock Pick Hammer
This is an ideal tool for anyone fossil hunting, or prospecting, or any rock busting job you have around the home.
The hammer has a 20 ounce head weight, and 7 inches long from the square head to the pointed tip.
It is a forged steel one piece handle and head, making it very strong, and will stand up to a steady pounding.
The length is about 11 inches, with a perfect balance, and comes with a rubber grip designed to reduce the shock or vibration when hammering.
The SE Rock Pick Hammer
This is a 20 ounce hammer that anyone from a Geologist, prospectors, stone worker, or contractors could use on their projects.
The handle and head are drop forged as one piece of steel and highly polished, plus hardened, with the head being 7 inches long.
The full length of this hammer is 11 inches giving it a very comfortable balance in your hand.
It has a rubber grip handle to absorb any shock, and won't slip out of your hand when using.
This is not an expensive hammer ranging in price from 20 to 30 dollars, and is very well-made to give you years of use, and would make an excellent addition to your tool box.
Valley HMSC Rock Pick Hammer
This is a 20 ounce hammer and forged as one piece with the handle and head, plus the head is tempered for added strength.
The head length is 7 inches, and the over all length of the hammer is 11 inches which gives it a good balance in your hand.
It has a rubber grip on the handle for comfort and non slippage, plus is designed to absorb any of the shock while pounding.
The Valley hand tools are quality controlled, and have a limited lifetime warranty. This hammer has a price range of around 25 dollars, so is actually a very good hammer for the price, and being drop forged and tempered it will last a long time.
The SKU-Pickpro Rock Pick Hammer
This is a 10 ounce hardened steel hammer, with a 5-inch-long head designed more for the younger generations.
The handle is made of tubular steel, and has a vinyl grip on it, and with a total of 12 inches.
Is best to always wear safety glasses, and supervise younger children when using this hammer, as you welcome them into the adventure of fossil hunting.
I will name a few other Brands of rock pick hammers here, such as
Vaughan
Keileoho
incly
Zeonhak
Hakzeon
Funsuei
Glorousamc
and am sure their are many more excellent brands of rock pick hammers to chose from.
Final Thoughts on Rock Pick Hammers
If you have an interest in being a Geologist, or a fossil hunter then I hope the above information will help you out to find which rock hammer to pick out, and you can use them around your home for any rock projects, like a stone walkway, etc.
Most of these hammers are well-made with the one piece forging, so pick one that's comfortable in your grip, and the weight of it feels good.
Related:
As always, wishing you all the best on your home projects, or any other jobs you might have.