If you are asking yourself what is a welding chipping hammer, then it would have to be defined as a special hammer used for cleaning up slag and debris from the welding process.

These hammers are a special designed tool with the head having a chisel end, and a cone shape on the other end, and the cone shape being like the look of a sharpened pencil.
Material Used For These Hammers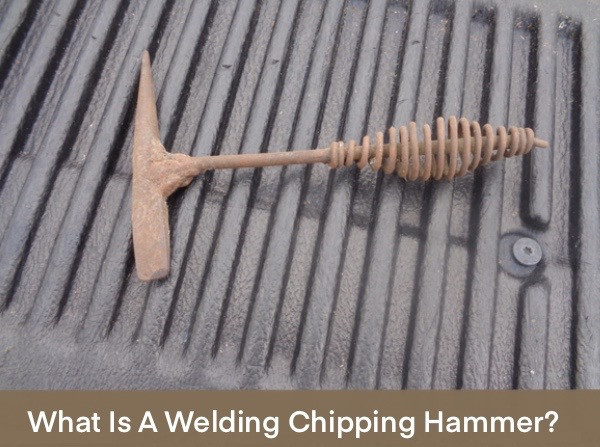 As these hammers have to be tough enough to take a pounding on steel, and other metals, they are often made of high-carbon steel and forged steel to increase the toughness of the heads.
They also need to stay sharp for a good period of time and use, so that you don't have to sharpen them too often.
Handles For A Welding Chipping Hammer
For these hammers it is important for a handle to be able to take the shock when hitting, and not vibrate back to your hand, and also be comfortable when you're using it.
Some of these hammers have a spring handle, that will separate the shock from the main shaft of the handle, but is probably not as comfortable as the design used on ordinary hammers, but wearing a good pair of gloves you won't notice the shock or vibration.
A Wire Brush For Cleaning the Weld
Along with a welding chipping hammer a wire brush is a helpful tool to have, as once you have chipped of the debris from your welding, then using the wire brush will leave it looking well cleaned.
It is also best to get a wire brush that will last, as most of the low-grade ones will not stand up to the job, so in this case is better to pay a little more for a better quality brush.
Weight of Welding Chipping Hammers
These hammers weigh less then your ordinary nailing hammer, and the weigh can also depend on the size of the chipping hammer.
Usually their weight will range from 12, 14. or 16 ounces, which can give the hammer a good balance when you are swinging it.
Some Welding Chipping Hammers Deserving a Mention
When picking out your chipping hammer, look for one that's made with high carbon steel and forged, as these will give you lasting performance.
The Estwing Welding Chipping Hammer
The Estwing E3-WC chipping hammers are forged from one piece of steel, which means the handle and head are combined as one piece.
They have a molded shock reducing grip for comfort and less vibration, as this 14 ounce chipping hammer is designed to last.
The flat chisel and conical head will last for a good period of time before needing sharping, and it is well-balanced with the handle.
As this welding chipping hammer is probably one of the best on the market today, you will find it a little more expensive then some of the others.
The Vastools Welding Chipper Hammer
This chipping hammer is made from high carbon steel, and tempered, as tempering is the process of heating the metal to a high temperature then cooling, and this will increase the toughness of the metal, also making it less brittle.
The hammer itself is about 10 and a half inches long, with the head about 6 inches from chisel end to cone end, and it will remove easily any slag or debris from your welding.
The handle has a spring around the end for gripping, and preventing any shock when hammering, and the spring is also tempered for strength, and will give a long-lasting performance.
You will find this type of chipping hammer very reasonable priced from 12 to 20 dollars, and will often come with a wire brush to help in cleaning.
Lincoln Electric Welding Chipping Hammer
The Lincoln KH530 chipping hammer is made from tough steel, and tempered with the tapered point and vertical chisel on the head.
The handle is the spring type grip to reduce any shock, and the hammer itself is about 11 inches long with the head being 6 and a half inches long.
This is a good chipping hammer for removing slag and debris after the welding process.
The Chowel BHS W330 Welding Chipping Hammer
This is another high quality chipping hammer you can use for cleaning up your welding.
It has the handle and head forged as one piece, so is made to last, and will not break.
The handle is rubberized for comfort, and to reduce shock and vibrations when hammering, and is considered a 13 ounce chipping hammer.
The over all length is about 12 inches, and the chisel and cone shaped head is 6 and a half inches.
This is an excellent chipping hammer but because of the higher quality manufacturing it will be a little more expensive.
QWork Welding Chipping Hammer
The head on this chipping hammer has a cone tapered tip at one end, and a double bevel at the chisel end.
The handle is made of high grade wood making it easy to grip, and shock resistant giving a comfortable feel to your hands when cleaning your welding.
With a forged steel head and tempered for hardness, it is meant to last, and the head is 14 ounces, 6 inches long, and the overall length of this hammer is about 12 inches.
The price for this hammer will be in the range of about 30 to 40 dollars.
Vaughn Welding Chipping Hammer
This brand has a 12 ounce chipping hammer, made from high carbon steel, and with a wooden handle made from hickory to give you a comfortable grip, and with the model number for this hammer is WC12.
Vaughn also makes a 14 ounce head chipping hammer, with the head and handle forged as one piece of steel for toughness, and less chance of ever breaking.
The head is about 7 inches long, being tapered and chiseled at the ends, plus the handle has a cushioned molded grip for comfort with less shock or vibration when cleaning your welding.
This model RWC14 is about 13 inches in length, plus Vaughn also have the chipping hammers with the coil spring for the handle, so you have a variety to chose from for this brand.
Other Brands
I will mention a few other brands of welding chipping hammers,
Hobbart
Deke
HSTECH
Pit Bull Slag Hammer
Titan
Solude
And there are many more brands that also sell good quality welding chipping hammers.
Final Thoughts on Welding Chipping Hammers.
If you happen to have a welder for those small jobs around your home, then I hope the above information will help you out when chosing a welding chipping hammer.
You might want to try to find one that has a comfortable grip, and made from quality steel so it will last.
Related:
If you love to find one of the kind rocks for your collection, you will need a geologist hammer.
As always, wishing you all the best on your home projects.