Stone Arch
Here is a few ideas on building A Stone Arch Monument, and having never built one before this turned out to be an interesting project.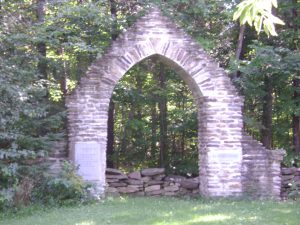 Time to Build
This arch took about two weeks or more to make with the help of my son. We built it for a local man in the community, who had lost his son to drugs and wonted a monument to remember him by.
The Base
To start building this you will require a very strong footing and base, and where we decided to build this the bedrock is only a foot or so down, so not much digging to do.
Stones
It would be recommended to use any of the larger stones on the bottom, and cementing them together as you build up. Sitting on bedrock there less likely to move in any direction.
Length of the Base.
Is best to extend the base out from where the arch will start, we went out about four feet for this one. The base needs to be very well made and sturdy.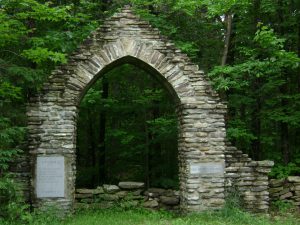 Design of Arch
Once the stones are up high enough to start the arch, then I made a few drawings on plywood to give the owner the curve of the arch he liked best.
The Supports
After picking one of the arch designs out, then comes the project of making a support to hold the arch up while you build it.
You can make this out of plywood and two by fours making sure to support the arch very well. We used four by four post for supports under the plywood forms.
Stones for the Arch
The arch stones are usually wedge shaped, and as we were using stones from a river and old stone walls in the area. This took time to come up with the right  stones to fit in.
The stones can usually be shaped into a wedge design with stone hammers and chisels, With some practice you can become quite good at shaping stone.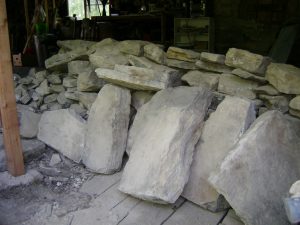 Finding Center of Arch.
The center of the arch, or the center distance between the columns is where you will fit the keystone that will finish holding your arch up. You can measure the distance, and then holding a level mark the center on your plywood forms.
Continue the Arch
After your first row is complete just continue on in the same way until you have the thickness of the arch that you wont.
A Stone Arch Monument Supports Removable
On this stone arch monument we waited about a month after it was completed  to take out the supports and plywood forms, giving the cement and stones a good length of time to bond in place.
And well its been over ten years now and its still standing, with nothing moved.
Working With Stone
Today there are saws that cut stone and brick to the desired shape you like, so this way is much easier then the hammer and chisel. Have seen brick and stone already shaped for arches at some cement suppliers.
So I hope to have given you some ideas on creating an arch for your home or backyard. They do take time to build , but once finished will probably out last you.
Wish you the best of luck on these projects , and if any questions just leave a comment and will get back to you.
Wayne.