Cordless Drills
Best Tips To Buy a Cordless Drill is about if your thinking of buying a cordless drill for some of your projects around the home, then I hope the information here will help you out.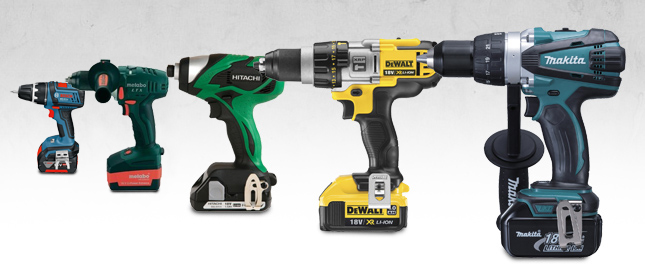 Choosing a Drill
Cordless drills are probably a must for the home owner. When buying one go for the lithium ion battery type as they provide more power and are much easier to work with.
I prefer the lighter drills if you happen to be using one for any length of time, and its always better to have two batteries. Just no fun when your screwing on a sheet of drywall and the battery dies, then having to wait half an hour for a recharge.
Popular Drills
Some of the better drills are Makita, Dewalt, Milwaukee,Porter Cable, Hitachi, Ryobi, and there is many more.
1  The Makita LXT 18V
Having used a Makita eighteen volt lithium ion during the syrup season for tapping I can say this is one drill I would highly recommend. I found it very easy and comfortable to handle and not to heavy at about 3.5 pounds.
The newer brushless model eighteen volt LXT Makita is designed  to run longer , with more power and speed plus a longer life before maintenance.
The two Lithium Ion batteries that come with it in the hard plastic case will take about an hour to charge before first using.
I have not tried out any of the newer model drills yet, but from my experience with the older drills I would rate Makita as my number one choice to use around the home for repairs and most jobs.
2  Dewalt Cordless Drills
The dewalt line of cordless drills are also excellent quality as I have had the opportunity to use them a few times.
With the dewalt if the last three numbers for the model end in a zero then the model is a drill driver, and if it ends in a five then it is a combination drill with the hammer function to use for drilling concrete.
As an example DCD780 and DCD995. The seven eighty just being drill driver on the low end of dewalt drills, and the nine ninety five being both hammer and drill on the top end.
The seven ninety five is the first of dewalts brushless motors and id designed to last longer and have less heat.
The seven eighty, seven eighty five, and seven ninety five are for general purpose work, like putting screws in and lighter drilling.
And the nine eighty, nine eighty five, and nine ninety five are dewalts heavy duty drills for harder drilling jobs.
3  Milwaukee Cordless Drills
The Milwaukee cordless eighteen volt drills are also good quality if your looking for one to buy.
There M18 fuel brushless four pole motor features rare earth magnets instead of brushes providing more power, cooler running, and a longer life span, plus lighter to handle.
There M18 brushless combo drill weights in at three point nine pounds with the battery installed, so is light enough for overhead work and tight places.
They have a long battery life but also take longer to charge so having two batteries in the kit is a must.
With 24 clutch settings it is easy to adjust for screws or drilling, and also has the LED light on the front.
4  Porter Cable Cordless Drills
Another model you might consider for around the home is Porter Cable. There twenty volt PCC601 lithium ion half inch drill sells for around a hundred dollars. So if your searching for a less expensive model give it a try.
It comes with the two speed gearbox from 0-350, and 0-1500 rpm. and a keyless chuck for quick bit changes plus an led light on the front to see what your doing in dark places.
The kit for this model has 2 20V Lithium-Ion batteries plus the charger and a couple of Philips bits with a storage bag.
At a weight of only 3.5 lbs is an easy drill to work with for an extended period of time.
5  Hitachi
The makers of Hitachi cordless also make a brushless drill. There DS18DBL eighteen volt lithium ion which has fifty percent more running time, increased power and durability and essentially no maintenance.
This drill is 14% faster then the average 18V class of drills.
With the brushless motor for more efficient performance, and will recharge the two batteries that come with it in about 45 minutes.
If interested in a cordless drill for around the home  you might wont to check one of these out.
6  Shopping for Drills
There are many excellent cordless drills on the market today, so is best to shop around to find one that suits your liking.
Listed above are just a few , there is also Bosch, Ryobi, Craftsman, Rockwell, Mastercraft and many more. The price will vary depending on size and quality, so best to do some home work before purchasing.
7  Black+Decker LDX120PK
This is 20V Lithium-Ion cordless drill with an 11 position clutch.
The kit comes with 1 battery and charger, 10 metal bits, a hole saw kit of 4 pieces from one and a quarter to two and one eighth, 32 screwdriver bits, and about 22 other pieces for a total of 66 pieces contained in a carrying bag.
For what you get with this drill is a good price, and is able to handle many jobs around the home.
The drill itself is light weight so will be easy to use, but having only one battery is bit of a negative.
But then it does give you good value for what your buying.
8  Mastercraft Cordless Drills
At the moment I have two twenty volt lithium ion mastercraft drills, and have been using them for about three years now. Reason I purchased them was the price, on sale for about eighty dollars at Canadian Tire.
I figured for the price that if they didn't last then I would not be losing very much. But after three years they are still running perfect, and I have put them through a lot of work from drywall to roofs.
Also having one strapped to your belt all day on a roof makes you appreciate the weight of one pound twelve ounces without the battery.
Best Tips To Buy a Cordless Drill and Batteries
Many of the different  brands of cordless drills also offer the ability for there batteries to fit other cordless tools in that same brand, an example being Makita. Other makes also do the same.
Speed and Clutches
With the older corded drills they usually had only one speed and no clutch. You would get full torque with each press of the trigger.
These days most brands provide a clutch on there cordless drills, which is used to prevent to much torque when driving screws or other smaller things.
There is almost always a two speed setting, a low and high range. The slower for driving larger bits, as when your drilling to install a door knob, or even mixing paint. The higher speed for drilling smaller holes and other things. The chuck on most of these drills is tightened and loosened by hand.
Batteries
The Lithium ion battery pack can be charged at any time for the mastercraft  drills, so there is no waiting for it to totally run out of juice.
A fully discharged battery will take about sixty to one hundred twenty minutes for a recharge depending on the battery. If the battery is left on the charger it will not overcharge, so that's something handy also.
The Better Cordless Drills
I hope the above information will give you some ideas  on cordless drills, and which will be the best suitable for the projects you are working on.
A handy tip for drilling holes is if you know the depth then just wrap some tape around the drill bit at the desired depth.
Most of these drills come with a variable speed clutch, where you can set it at a low number for screws so as not to twist the heads off them, and a higher setting for drilling.
The part of the drill that holds the drill bits is referred to as the chuck and comes in a 1/2 inch size which is used the most often, but some of the less expensive have a 3/8 chuck for light duty work.
With so many on the market today it might even be helpful to try out a few of your neighbours before making a purchase.cordless drills
I wish you the best of luck on your drill shopping and any comments are appreciated.
Wayne.