Oak Hardwood Floor
Here is a few ideas for Installing Oak Wood Flooring in a Hallway.
First thing to do in this case  was to remove the carpet covering the plywood under it.
Best to start in a doorway and give it a pull, as it is usually just tacked down around the outside edges.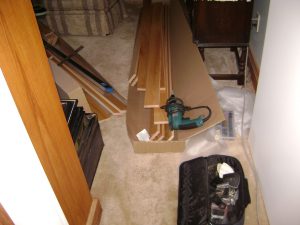 Carpet Removal
After you have taken up the carpet and rolled it up, if your not saving it then best to take it out to the garbage.
Once its out of the way then you can pull any staples left stuck in the plywood, and all the wood nailing cleats around the outside of room that held carpet down.
Preparing Plywood
Once the plywood has all the staples pulled then its time to add more floor screws to your plywood base flooring. This will prevent any squeaking from your hardwood floor once its laid.
Make sure to put plenty of screws as most people will not appreciate a floor that squeaks.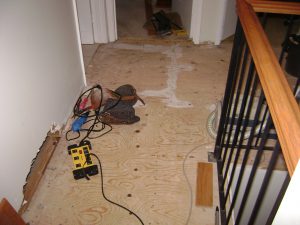 Installing Oak Wood flooring in a Hallway and Doorways
In this hallway there happened to be five doorways, four bedrooms and a bath.
Between the thresholds of the door ways you can install pieces of the oak flooring  cut to size.
These usually go from the door stop to the hallway edge of the door frame, and as door frames need to be cut to oak floor height to allow your pieces to fit under door frames.
Door Frames
Is best to take a piece of your oak flooring and mark all the door frames  at the right height and then cut them out.
I find using a multi craft tool works very well for this.
And if you happen to have steel door frames then there are also metal blades that fit this tool, and will work quiet well.
Flooring
Once all your door frames have been cut then you can start laying  the flooring .
You don't wont the joints to end up in the same place, usually ten inches plus separating them. Also you can chalk a line out from wall for a reference point to keep the rows straight, as you will find very few rooms are perfectly straight,
Best to lay out a few rows first to see how they come, and how much will have to be cut off the ends of a run.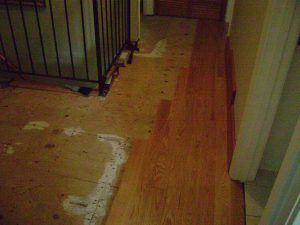 Installing Oak Wood Flooring in a Hallway and Nailing
The first two or three rows will have to be drilled through the tongue of the boards and nailed by hand , because the floor nailer will not have enough space to be used yet.
Also be careful when nailing by hand as sometimes the nail can get bent if the hole you drilled is not of sufficient size. And a good nail punch to drive the nails home is required.
Once away from the wall  then its just a matter of laying the floor boards out , staggering the joints and using the floor nailer on them.
Space your nails  about six to eight inches ap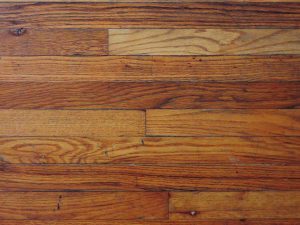 art and about two to three inches from the ends of your boards.
Stair Railing
Also in the case of this floor there was a steel railing around the stairway opening, some will be wood.
Is best to remove them and then after the floor is installed  you can put it back on top of the flooring.
Any screws holding the railing down  should be predrilled through the oak flooring first.
Overhang on Stair Thread
Also when you are coming to the top step of your stairs, you might wont to make a nose piece out of your oak flooring in order to finish it off and match the rest of the stairs.
It could have an overhang of an inch or more, as that will depend on your set of stairs.
Mouldings
Once all your floor is laid and nailed into place, then the floor mouldings can be put back on to cover the quarter inch space left for expansion.
You might also have some finer mouldings to put around the stairwell opening and these can also be attached now.
Now your oak floor in the upstairs hallway is finished.
If you have any comments or ideas about doing this type of flooring, there always appreciated.
Wayne.